Hi, I am Bob and my job is to help you get control of your money, pay off debt, save more, and give more than you ever dreamed possible.
You can read more about my story on the About page, but suffice it to say these were 4 goals I had for my own finances 10 years ago and by the grace of God I have been able to accomplish each of them.
If you haven't reached all 4 yet, then you are in exactly the right place!
New to the site? Don't know where to start?
Here are a few suggestions to get you caught up to speed!
The Getting Started Course
The 'Getting Started' course is a FREE 3-Day email course containing lessons that will give you actionable steps to help you get out of debt, better organize and manage your finances, and help you begin planning and preparing for the future.
You can find out more about the Getting Started course, or just enter your info below to sign up:
Get One Of Our Books!
We now have a couple books available on Amazon (paperback or Kindle) that many readers have found to be very helpful.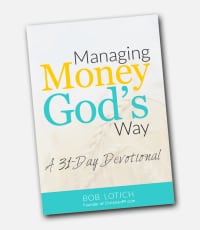 Managing Money God's Way: A 31-Day Devotional
  "This is an excellent book. I recommend it to anyone who is dealing with not only money issues, but becoming a better steward over their lives as a whole."   — F. Gallop, Amazon reviewer.
A Few More Ideas For You